Password Recovery Tool to Open Password-Protected Database
Method to Open Password Protected MDB Database: Step wise Process to open password protected MDB database is as follows: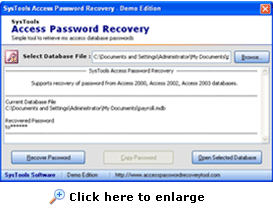 (1) Start Microsoft Access.
(2) Open the database. To open the database for exclusive use, click in the Open dialog box, click the arrow next to the Open button, and then click Open Exclusive.
(3) When prompted for the database password, type password, and then click OK.
(4) On the Tools menu, point to Security, and then click Unset Database Password.
(5) When prompted for the database password, type password, and then click OK.
(6) Close the database.

In case you forget your Access password, then you cannot open your Access data saved in MDB files
Try - Open Current Database Method: To remove access password from password protected database you can also use the Open Current Database method, using which you can programmatically open a Microsoft Access database within the Microsoft Access user interface. Though, this Open Current Database method does not provide a parameter for specifying a password for password-protected databases. Therefore, the user is automatically prompted to enter the Access database password if one exists.

Download now Demo Version of Access Password Recovery Tool for FREE!
Help from Outside Tool: Then you need to use some outside tool in the form of third-party tool to remove forgotten password. There are several third-party tools available in the online market for this purpose.

Remove Access Password Software (Third-Party Tool): In case you have lost your Access password then you can use lost password recovery software in order to remove access password. Using Microsoft Access Password Recovery you can easily and quickly MDB unlock for access lost MDB password. The tool employs high and advanced technology to remove access database password in no time.