Access Password Recovery Tool — Recover Lost MDB Files Password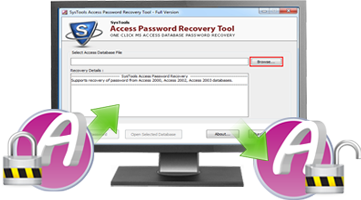 Easy & User Friendly Interface
Quickly recover access database password
Supports all versions of Access Database (2013, 2010, 2007, 2003, 2000, 97)
Runs in all Windows OS (2000/XP/2002/Vista/Win7/Win8)
Best MDB Password Recovery Software to recover MDB password
Safe simple, fast to Install and use the software
Solution to Unlock Password Protected Access Database Files !
Get – "Access Password Recovery" tool to recover access database passwords whether it is lost or forgotten. Access Password Recovery tool allows you to recover password from protected MDB databases and this program also supports to recover user–level password and allows you to recover password from MDB File.
Passwords are necessary to protect access database from unauthorized use as Microsoft Access is the most popular application amongst offices. Sometimes these password may get lost or forgotten making your MDB database inaccessible. Try using Access Password Recovery Tool to unlock these password protected MDB databases or to recover access password.
MDB Password Recovery Software is the instant password recovery solution for password protected access database as it is fast, easy to use software and involves only few steps to recover access password. Recover your access database password easily using "Copy Password" option.
Product Features — Access Password Recovery Tool

Recover Access Database File Password
Tool efficiently recover encrypted password of MS Access database files like (*.MDB) & (*ACCDB) without any loss as well as make accessible to its user.

Copy Password & Open option
Software deeply scans the access file and recover the password as well as as provide Copy Password option to copy recovered password to open

Recover Any Type Password
With the help of this tool you can recover multilingual MDB/ACCDB file password whether it numeric, alphanumeric or conating specific symbols.

Elegent Graphical Edge
Easy and user-friendly interface of this tool makes him more versatile. You need to follow just simple few steps to unlock the password of Access database.